Midas!!
Meet King Midas!!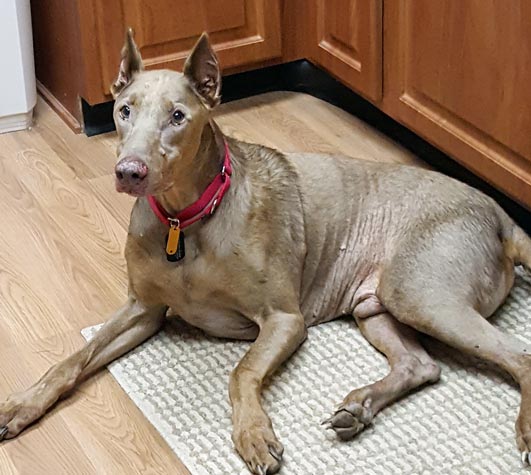 Everything HE touches turns to Fawn!!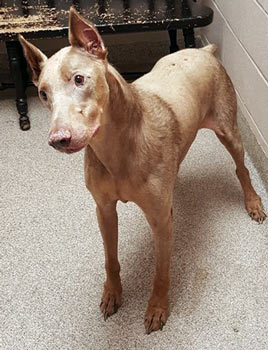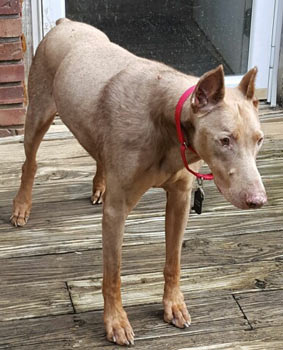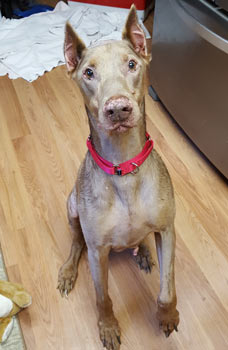 Goood (leaving vet)... Better (home?)... BEST!! See my fridge??
Midas was surrendered to an Ohio shelter by his owners and Bluegrass Doberman Rescue stepped in to save the day. He's 9 years-old but it seems Midas hasn't seen the memo! He loves all people, loves to play with the other dogs, and enjoys exploring his new surroundings and pleasing his humans. He was very nervous at the shelter with all the noise and commotion but has settled into his foster home quickly. Midas is even-tempered even with a sometimes grumpy younger male dog he's sharing his foster home with. He's definitely a Velcro Dobe, wanting to keep his humans in sight but seems to benefit from having another dog around. He is almost bald, having developed a bacterial skin infection most likely resulting from sub-standard nutrition. Since starting his medicated baths, taking an antibiotic, and getting good quality groceries there is some new hair showing in his coat. He's also responding to the calmer environment and is now very relaxed. Midas will be evaluated for some lumps and skin growths as well as having a dental. He's a very food motivated boy! String cheese and stinky treats definitely get his undivided attention, although he's not fond of green beans.
Special Needs If Any: An adopter with Doberman experience would probably be best for Midas as he'll try all the "dobe tricks" to get his way, even though he does it sweetly. He's got the Dobe "stare" down to a science.
Geographic Adoption Area: Kentucky and surrounding states but will adopt outside that area if a home visit can be arranged and the people are willing to travel to meet the Dobe in their foster home.
Contact Information: See above