Check out all the new Dobes...coast to coast and border to border listings! We are introducing a new feature to the SDP Home Page! Meet the Seniors! Every week we will feature another beautiful Senior Dobe - please visit our Seniors and maybe become a sponsor... or fulfill every Seniors dream of a Forever Family! Thanks for visiting!! Please enjoy this beautiful tribute to Rescued Dobermans everywhere - brought to us by a believer!!
HELP ME

Give me the ugly dog with one eye, three legs,
and help me show that they're more than just a form and a face.
Give me the scarred dog, burned and slashed with hate,
and help me lead it away from that terrible fate.
Give me the deaf and blind dog, and help me show it the way
in the silence and dark of each of their days.
Give me the shutdown dog, depressed of mind,
and help me cherish their soul until their fears unwind.
Give me the old dog, bent and broken with age,
and help me fill their last days with an unending grace.
Give me the ugly dog, I'll leave the pretty one for you,
and help me show them they're worthy of love and joy, too.
Leslie Bird Nuccio
About Leslie:
Leslie Bird Nuccio is President of Doberman Rescue of North Carolina – she speaks from her heart for all who do this amazing work on behalf of those who would otherwise have no voice, no future.
SND's Senior Doberman Project's
Senior of the Week!

November 10, 2017 through November 17, 2017
Meet Mr. Cecil!!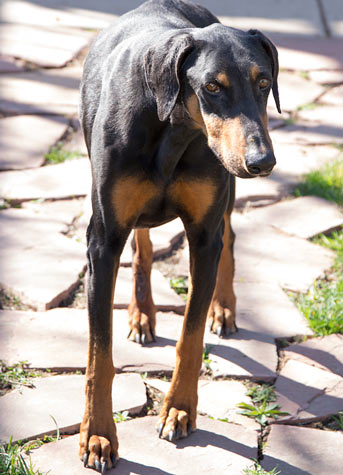 Yay! I don't have to spend my days and nights with the tree outside!!!
Click my picture above and visit my page!!
And... He'd love Sponsors while he's enjoying life!!
Cecil is a very sweet 8 year old dobergent looking for his forever home. He's spent his entire life chained to a tree in a back yard. Some caring neighbors got his owner to sign him over to them with the hopes of giving him a better life. However, his vet costs proved to be more than they could handle so he was sent to rescue. Cecil gets along well with people and dogs. He's very playful with the other dobie in his foster home and is very much a velcro dobe. Cats are still an unknown but he's not the steadiest on his feet so more than likely they can coexist just fine. Cecil has some numbness in his back left leg but it doesn't seem to bother him and he is capable of getting around. He does love to fetch. He is hypothyroid but this is easily treated with inexpensive medication. He is trustworthy when left alone in the home and isn't destructive. He does have some separation anxiety that manifests itself with barking and whining. You can send Cecil a Senior Sponsorship by visiting his page at http://www.doberman911.org/seniors/cases/co_cecil.html.
You can learn more about Mr. Cecil and many other Seniors who need your support by going to http://www.doberman911.org/seniors/cases. Here you can also help Doberman rescues across the country with their Seniors by sponsoring a Senior Doberman for $40 per month or $480 per year. Our goal is to encourage Rescues to take in more Seniors by helping them with the day to day expenses for routine medical care or just extras like nice comfy beds and toys to make their golden years the best yet. It's a great way to honor the lives of these older Dobermans, many of whom never knew love or care during their younger years.
If you have any questions about Mr. Cecil or any of our other beautiful Seniors, please email us at seniors@doberman911.org. Thank you for your support!!
Tell us About Your Senior Dobe!
Rescues! Do you have a senior Dobe in need of rescue? SDP would like to know! You can use the Add Your Senior link to the left to download the virus-free form and email it to us. The more senior Dobes we know about, the more we can help!
Making Donations
If you would like to contribute to the Senior Medical Fund, you can do so by making a tax deductible donation or by sending in items that can be used for our eBay fund raising auctions. Monetary donations can be made online with a credit card by using the PayPal button below, or you can mail a check or money order to the address below. Here is the PayPal button:
To send a check or money order, please make it payable to Special Needs Dobermans. If your donation is for the Seniors Medical Fund, make sure to put "SF" on the memo line. If it is for a specific senior, make sure to put the name of the Senior Dobe on your donation. Our mailing address for donations
Special Needs Dobermans
144 Road 2776
Aztec, NM 87410
We thank you for your support! Again, no donation is too small! If you have any suggestions or questions, please feel free to email us.