About the Senior Doberman Project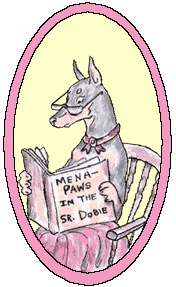 Special Needs Dobermans and The Doberman Digest recognize the difficulty in placing aging Dobermans in loving homes. Doberman rescue groups have worked tirelessly to save and care for these precious creatures, and we would like to help you find them forever homes. We are working with a national Dobe magazine to publicize the plight of senior Dobes, and creating a national database and website dedicated to senior Dobes in need of families. Special Needs Dobermans will provide the website and Doberman Digest will regularly commit space in their bimonthly magazine to publicizing these senior Dobes' needs. The Doberman community is truly reaching out to address this crucial cause.
Our goal is to create maximum exposure of available seniors through state-by-state listings with information as close to "real time" as possible, including links to existing rescue sites. Our long-term objectives include developing a comprehensive database and coordinating with as many Doberman rescue groups as possible. In addition, the Doberman Digest's bimonthly magazine will publish the list of Dobes in need of homes.
Please note: The Senior Doberman Project limits its listings to only purebred senior Dobermans. AKC or other kennel club registration is not a requirement, but we do ask that all participants use their best judgment in determining whether a potential candidate for listing in the SDP is a purebred before submitting a senior for inclusion in the project. Thanks!
If you are interested in participating with this effort, please take a moment to read our How You Can Help page, its link is on the left. To let us know about a senior Dobe needing rescue, fill out our on-line profile form. It's available by clicking the "Add Your Senior" link to the left. It doesn't take long, and your Dobe will get more exposure! We ask that you email pictures of your Dobe as well.
Dobertoons.net Artwork!
We are very proud to be using the artwork of Dobertoons.net on our website. Please visit their site at www.dobertoons.net. The two Dobes featured on this site are seniors Little Arfin' Annie and Oliver. They are part of the Dobertoons family of characters in an ongoing series of stories that talk directly to the heart. This artwork is widely known in the Doberman community for its playful and accurate portrayal of the breed. We are only the second group given permission to use the artwork, a fact that we are honored by and very proud of. We extend our heartfelt thanks to Dobertoons.net for helping The Senior Doberman Project, and for their continued love and support of our Dobie friends!