Irma!
Meet Irristible Irma!!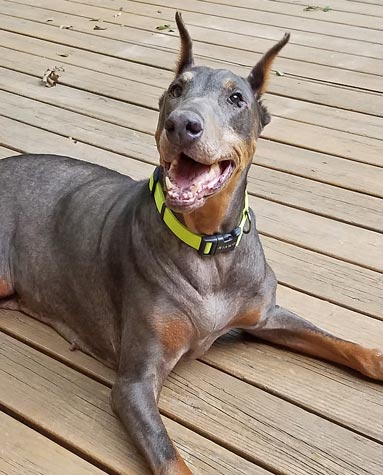 I'm sooooo happy to have been left... to the RescueAngels!!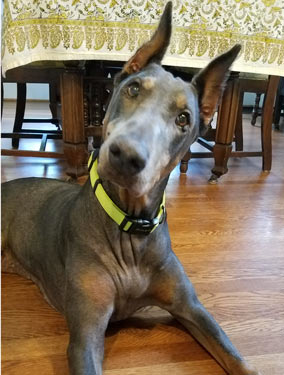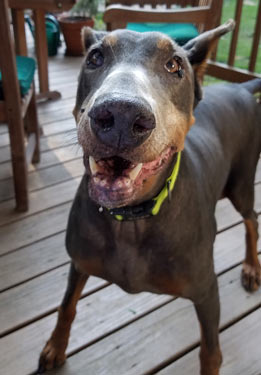 Out? Out? I just LOVE outside!!
Ten year-old Irma was pulled from a Georgia shelter when her owners failed to reclaim her. The poor girl probably hadn't had a bath in months or even years. She was thought to be red until her bath when it became clear she was blue Lady. She obviously looked, smelled, and felt so much better. Irma is estimated to be about 10 years old but could be as old as 12. Her back end is weak and her back feet slide around if she's not wearing boots. She wants to play with the other dogs but usually falls down when she play bows. X-rays of her neck, chest, and back show she has an enlarged heart and has white spots on her lungs. The vet could not tell if the spots on her lungs were tumors or pockets of fluid so Irma will be seeing a cardiologist to see if she has DCM. She is heartworm positive. Irma is a very happy dog who gets along with all the dogs she's met in her foster home. She also seems to enjoy meeting lots of new people. She will try to steal food off your plate so she needs to be watched when people are eating.
Want to see Miss Irma in ACTION?? Go here: https://www.youtube.com/watch?v=j7_JCyzDAOQ
HAPPY UPDATE!! Miss Irma has already seen the cardiologist. He did not see signs of DCM, and feels that the white spots on her lungs are damage or inflammation caused by the heartworms. She does have a hacking cough, but again, due to lung damage and not DCM. In her last set of x-rays on Monday, her lungs actually looked a little better and will likely keep improving!!
Special Needs if any: Will know more after she sees a cardiologist.
Geographic areas: Within an hour of Atlanta.
Contact Information
Name: Jane Fratesi
Rescue: Doberman Rescue of Atlanta
Website: http://www.dobermanrescueatlanta.com
Email: info@dobermanrescueatlanta.com