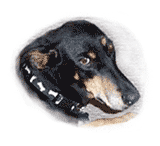 Pixie's Pals!
The very first Dobe that found a loving home after being seen on this website was Pixie. Sheilla Dingus read how this girl had been in a shelter for two months and drove from Georgia to Missouri to rescue Pixie. What followed was a wonderful story of love and devotion. Pixie only had three months with her new mom before succumbing to lung cancer, but the two of them packed a lifetime's worth of love in to those months. In memory of our friend, we have dedicated this page of rescue Happy Tails by naming it after Pixie. One of the happiest things we do here at SDP is post news about senior Dobies finding new homes and families to love them. It is only fitting that this happy page be named after our first lucky girl. (Sheilla has since become an amazing contributor to Special Needs Dobermans, working on all sorts of projects - thanks for introducing us Pixie!)
Due to the hard work of Doberman rescue organizations and caring individuals, some our senior friends find new homes. When we hear about these lucky girls and boys, we will list them on this page and post their Happy Tail for all to see! Of course there are lots of other seniors that need help, but take heart in the happy stories below. These seniors now have loving homes to live the rest of their lives in. Our friends in rescue go to great lengths to make sure these homes are best for our friends, doing home visits, vet interviews, and many other things to make sure both the Dobes and families will be happy together. Of course thanks go to the families themselves. Without them accepting senior Dobes into their homes, our friends might still be waiting. So thanks to everyone! Some of the Happy Tail pages have more pictures that will take a few extra seconds to download.
---

Kate!



Adopted November 2008!

Saki! Adopted December 2008!
Happy Tails from 2007 - UNDER CONSTRUCTION
Happy Tails from 2006 - 19 SDP Dobes Adopted!!
Happy Tails from 2005 - 36 SDP Dobes Adopted!!
Happy Tails from 2004 - 66 SDP Dobes Adopted!!
Happy Tails from 2003 - 76 SDP Dobes Adopted!!
All rights reserved, Special Needs Dobermans, Inc. © 2002, 2003, 2004, 2005, 2006, 2007, 2008. Reprinting of material found herein without written permission is prohibited. "Dober'Toons!" are the property of L.Angele Laughlin-Semple, All rights reserved. Copyright © 1998, 1999, 2000, 2001, 2002, 2003, 2004, 2005, 2006, 2007, 2008 L.Angele Laughlin-Semple. Copying, linking and/or reproduction of any "Dober'Toons!" artwork on this site is denied without permission.