Cricket!
February, 2017!! - Miss Cricket has been adopted!!!
HAPPY NEW LIFE!! Somebody just got lucky!
Happy, happy retirement Cricket!!
HIP HIP HOOOORAY!!
Meet Miss Cricket!!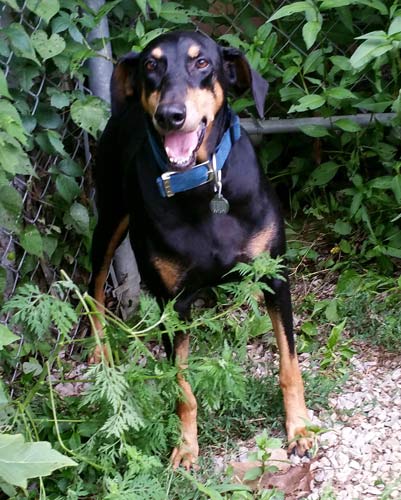 This is my "Happy to be alive in proper care and love" face...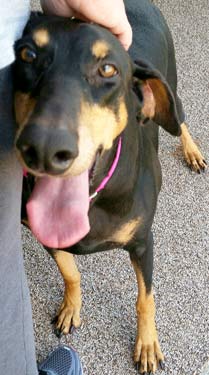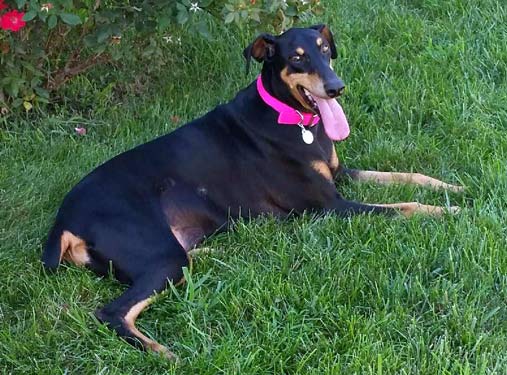 A side to lean on and the green grass of a real home!!
Seven year old Cricket came to rescue when her owners who'd had her since she was a puppy called rescue saying they were afraid she'd be stolen. Huh? They had previously lived in a more rural area but now lived in a city neighborhood where there were dogs being stolen. Since they had her living outside in a fenced yard, they were afraid she would also be stolen. Huh? Can't keep a Doberman safe? Cricket lived with a cat and a miniature pinscher so she gets along with other animals. She's been a bit shy in her new foster home but is very gentle and sweet. The family also had limited funds so her vet care has not been kept up to date and she is positive for heartworms which likely means the other poor animals in their "care" also have HW and who knows what else. Getting dumped was the best thing that happened to this Cricket!! Won't you give Cricket a chance to be a forever, well-cared for DobeLady?
Special Needs If Any: I just need some to love!!
Geographic areas you adopt to: Rescue will consider applications throughout the U.S. and Canada providing a home visit can be done.
Contact Information: If you are interested in adopting a Senior, please visit the Southwest Ohio Doberman Rescue (SWODR) website at www.swohiodoberescue.org to submit an application. or by e-mail at swohdoberescue@aol.com. Southwest Ohio Doberman Rescue will consider applications from throughout the U.S. and Canada, provided we can get a home visit done. Travel to meet the dog and transportation of the dog to its new home (ground only) are the responsibility of the adopter. See our website for further details. An application is required.