Pixie!
We're very happy to report that Pixie found a new, loving home on December 21st!!!
Read Pixie's Happy Tail below!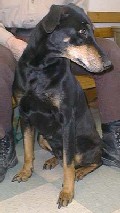 Pixie, estimated to be 7 years old, was abandoned at her vet's office when her previous owner didn't return to pick her back up. She has been at the Gladstone Animal Control Shelter for sixty days, and they unfortunately may be faced with putting her down soon. As of 12/07, she had ten days left.
Pixie has a great disposition, everyone at the shelter loves her. She is black and tan, with a docked tail and uncropped ears. It is not known if she has been spayed. Pixie answers to basic commands like sit and down, likes other dogs and cats, and loves her people friends. She is also house trained. Pixie was abandoned through no fault of her own, please help her resume the life of a happy Dobe!

Hello Everyone,
My name is Pixie, and I was recently adopted. My new mom has told me how much the people at SND have cared for me, and sent their good thoughts to me, so I wanted to say thank you and tell you about my new home.
As you probably know, my time was running short at Gladstone Animal Control, near Kansas City Missouri. The officers there were very kind and treated me well. They contacted everyone they knew in an attempt to find me a home where I would be happy. One day Officer Angie came to me and told me that I was being adopted. She said that my new mom was coming from Georgia to pick me up, and that I should visit Mr. Vet to be spayed before my new mom arrives.
When I visited Mr. Vet, he noticed my cough and took some funny pictures of my chest. He called them x-rays. He seemed very sad after that and said that I have a mass on my right lung. Mr. Vet called my friends at the shelter, and they were concerned that my new mom might not want me. I was very happy later that day when they said that she wanted me and would be there Saturday morning.
Morning arrived and Officer Judy came to get me. She said that my new mommy was here. I went with Judy to the waiting room and there sat my new mom. She had a kind face and lots of yummy treats. She gave me hugs and kisses, and I laid my head on her lap. After all the papers were signed, she placed a pretty new collar around my neck. It even had a tag with my name on it and my new address! She attached my new leash and we went outside for a walk. When we finished walking we went to the car. Mom opened the back hatch of her station wagon and showed me to my crate. I got in, but was a little scared. My little big brother, 10 yr. old Pomeranian mix, Champ, made me less nervous, when he laid down beside my crate. He told me that I would like our home.
We drove and drove. We passed by farmland and cities. We crossed bridges and rivers. We even saw a huge Arch. Mom said that we were in St. Louis. Finally we stopped at a place mom called a rest area. Champ went outside first and I watched from my crate in the car. In a little while, mom came for me, and gave me cool water to drink. We went for a nice walk in a grassy area, and then we sat at a picnic table where mom gave me ear scratches and kisses. Then we got back in the car. We passed through cities and rural areas, we saw concrete forests and farms, but every couple of hours, we would stop at a rest area and relax for a bit.
When night fell, we stopped and mom left my brother and me in the car for a few minutes. She then got back in and drove less than a minute. Then she got me out and we went into a room. I sniffed every inch, and asked mom if this was Georgia. She said, "no", that we were in Kentucky, and this place is called a motel. She sat on the bed and motioned for me to join her. I jumped up and rolled over. Mom gave me a nice tummy rub. A few minutes later she came back with some suitcases and my brother, Champ. Mom then fixed dinner for us. Champ climbed in bed with mom, and since he seemed a bit jealous, I claimed the other bed. We lay around and watched TV for a while, then went to sleep. It was nice to be in a warm place with nice soft beds. During the night I began to cough, and mom crawled in bed with me and cuddled me. It made me feel better and I had pleasant dreams that night.
The next day we got up and mom fixed breakfast for Champ and me. She then took Champ and me for a walk together. She seemed very happy that he and I were getting along, and I took care to walk slowly so that my little brother could keep up. Afterward mom packed up the car again and we started driving again.
This time we drove though the mountains and passed pretty waterfalls. Again, we stopped every couple of hours for water and walking. As night approached, mom said that we had entered Georgia and would soon be home. I got very excited and began to whine a bit. Mom sang Christmas carols to make me calm. Finally we arrived at our home. I walked inside and met my little sister Prissy, a 4-month-old kitten. I think she was scared of me at first, but later she came out and made friends with me. I explored the house. It was small but comfortable. It had pleasant and familiar scents. Mom fixed supper for all the kids and soon we went to bed. I slept on the loveseat in Mom's room. She had invited me to bed, but I wasn't sure if my siblings wanted to share the bed with me.
I have now been with my new family for a week. The whole pack now sleeps in the same bed, and I feel very loved. I visited two doctors on Tuesday, who gave me some medicine to help my cough. I went to Mom's office one day, and traveled with her and my brother and sister on a business trip later in the week. We are now back home, and I am very happy. Mom says that I am very beautiful and that I am quite smart. She brags on me for being so obedient. Later today, she says that we will visit Santa, although I have already been granted my Christmas wish.
Thanks to all of you who helped me to find my new home.
Love,
Pixie

More Pictures of Pixie at HOME!
Pixie and Prissy

Pixie on her new bed!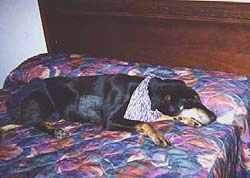 Pixie on her new couch!