Netty!
Meet Miss Nice Netty!!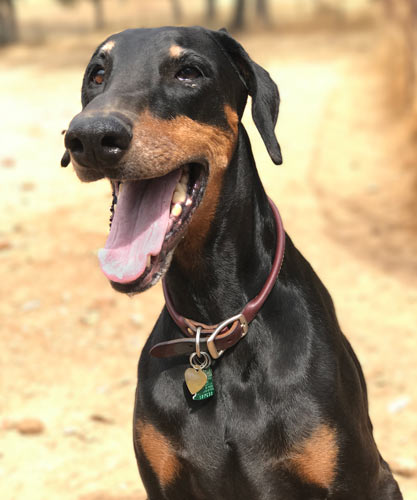 You've heard of "Nice Nelly," eh? Well I'm NICE NETTY!!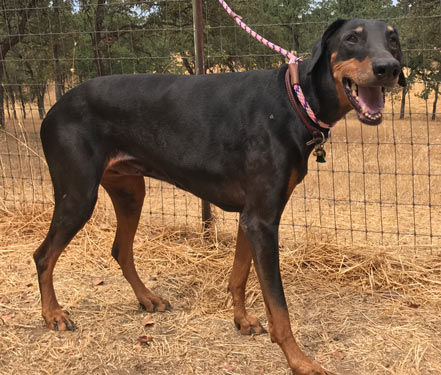 Just look at this face!! Is this NICE or what??
Netty is a very active 9 year old Senior girl who had enjoyed her life until her owner suffered a stroke and was no longer able to care for her. Family members made arrangements to bring her to Northern California Doberman Rescue after they made sure she had a vet check-up and dental work. Turns out her teeth were in very good shape and she actually had two extra teeth. She had a skin tag removed from her elbow and never bothered the incision even though it was not covered. Netty is an absolute angel in the home and is fine with napping in her large crate on her personal pillow. She doesn't tear up toys or bedding but is obsessed with her Giggle Ball toy. She will fetch it all day if she can find anyone willing to throw it. She is not good with cats and can be picky about her which dogs she will befriend. She would be happiest as an only dog with a single owner in a quiet home. In the mean time she is enjoying herself at the rescue especially if she can play with her Giggle Ball.
Special Needs if any: None.
Special Needs if any: None.
Geographic areas: CA, NV, WA, OR
---

The Sponsor A Senior program helps Seniors by raising funds for their rescue programs. This helps offset some of the additional costs that come with caring for a senior (diet, medications, supplements, etc.). Please read more about this program on the Sponsor A Senior page.
Miss Netty is looking for a sponsor! The cost to sponsor a Senior Dobe is $40 per month or $480 per year. You can sponsor a Senior for one month, one year, or somewhere in between. To sponsor Miss Netty, use the PayPal button below or visit the Sponsor A Senior page for instructions on sending a check. Thank you for any help you can give, it is MUCH appreciated!