We are an all-volunteer organization of people with a common goal of helping Senior and special needs Doberman Pinschers. That need may be financial for Doberman Rescue Groups, or it may be only information and/or moral support for the owner of a Doberman with a serious illness or injury. We will also aid Rescue Groups in rehoming and fostering senior Dobermans they may place under their care. The financial aid we provide may come from donations, occasional online auctions or SND Store sales. Every precaution is taken to assure that the need is real. SND maintains an "every penny" rule which guarantees that 100% of donations to the care of Dobermans is used ONLY for that purpose. Administrative costs are covered with proceeds from our online store, by designated donations and by occasional auctions specifically for that purpose.
* * * * RED ALERT * * * *
UPDATE: Californians take note - your Governor gives a thumbs down to you and your pets who might need life-saving blood products!! Keep that in mind when next you vote!!
RED as in the blood of our canine companions!! California has threatened the very existence of the canine equivalent of the Red Cross!! No more Hemopet?? This is a much-needed critical service which should NOT be sacrificed at the expense of our dogs to satiate the unsatiable appetites of California misappropriations!! If you live in California, you can help!! Please visit Hemopet NOW to learn more!! Dr. Dodds and her life-saving missions deserve our support!! Thank you!!
---
---
Please enjoy a beautiful tribute to Rescued Dobermans everywhere - brought to us by a believer!!
Read it here General Fund Dobes!!
Special Needs Dobermans recognizes the difficulty in placing aging Dobermans in loving homes. Doberman rescue groups have worked tirelessly to save and care for these precious creatures, and we would like to help you find them forever homes. We publicize the plight of Senior Dobes in addition to creating a national database and website dedicated to senior Dobes in need of families. Special Needs Dobermans Senior Doberman Project provides the website for Rescue Groups for publicizing their Senior Dobes' needs. The Doberman community is truly reaching out to address this crucial cause. Please visit our page at www.doberman911.org/seniors. Find out what's being done to help our senior friends!
* * * * Meet the SDP's Senior of the Week!! * * * *
SND's Senior Doberman Project's
Senior of the Week!

October 19, 2016 through October 26, 2016

Meet Miss Roxy!!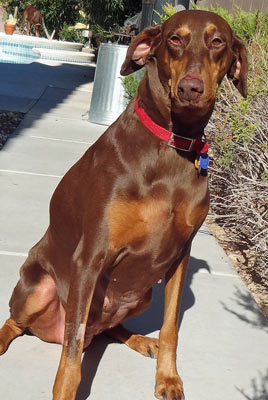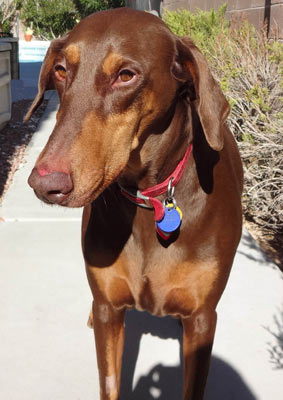 This is my mean face! Are you scared??
Click my picture above and visit my page!!
And... She'd love Sponsors while she's enjoying life!!
Beautiful 7 year-old Roxy first came to rescue 5 years ago after having been dumped into a local shelter undernourished, overbred, and suffering from severe Demodex mange. After a year of very intense treatment her mange cleared up and she began coming out of her shell. Roxy has always suffered from separation anxiety and she recently broke into a cabinet in her foster home and ate more than a half a bottle of medication flavored to be tasty to dogs. She then had to be rushed to the hospital to be treated with activated charcoal and flushed with IV fluids for several days. Roxy is now recovering and steps are being taken to make sure this never happens again. Sweet Roxy has come a very long way since she came to rescue and we are all relieved she's going to be fine. In spite of her challenges Roxy is a sweet Senior girl who needs to give and feel loved. Won't you take a chance on this gorgeous Redhead?? To sponsor Roxy visit her page at http://www.doberman911.org/seniors/cases/nv_roxy.html.
You can learn more about Miss Roxy and many other Seniors who need your support by going to http://www.doberman911.org/seniors/cases. Here you can also help Doberman rescues across the country with their Seniors by sponsoring a Senior Doberman for $40 per month or $480 per year. Our goal is to encourage Rescues to take in more Seniors by helping them with the day to day expenses for routine medical care or just extras like nice comfy beds and toys to make their golden years the best yet. It's a great way to honor the lives of these older Dobermans, many of whom never knew love or care during their younger years.
If you have any questions about Miss Roxy or any of our other beautiful Seniors, please email us at seniors@doberman911.org. Thank you for your support!!
The Senior Medical Assistance Program
Special Needs Dobermans has placed a special focus on fundraising efforts to assist Senior Dobermans with their medical needs. Having provided a lifetime of love, devotion, and loyalty, these Seniors now find that they are faced with increasing debilitating medical problems. These loving seniors may be with a rescue group and seeking a forever homes or they may be in hospice care with their RescueAngels. Since the financial burden of providing necessary medical treatments is sometimes beyond the means of their caregivers, they apply to SND for financial assistance. While SND lists Seniors in Need both on our Newest Cases and on our Still In Need, we must help Seniors by reaching out to the Doberman community by raising funds for the Seniors Medical Fund. This fund is exclusively for Senior Dobes in the care of Rescue Groups. Here are four beautiful Seniors who have benefited from this great program:





Rommel Sage Gunther Magnum
Special Needs Dobermans is a nonprofit 501(c)(3) corporation. We are able to help Dobermans thanks to the generosity of people like you!! Your donation to SND is tax deductible. All money donated on behalf of the Dobermans, every cent, goes towards their care.
The SND General Fund is used to get new Dobes that come our way some initial assistance. Donations made to this fund ensure that we'll always be able to help, now and in the future. Please consider making a contribution to the General Fund by using the PayPal Donation link below or by mailing in a donation. Thank you very much for helping us help Dobes in need!



---
IMPORTANT ANNOUNCEMENTS!!
* * * * SPECIAL NOTICE * * * *

Please be advised that we no longer accept applications for financial assistance to private owners as of 15 March 2013. We will still provide information on fundraising and other concerns as we always have. Please refer to our contact and "Help" pages for more information.
January 27, 2016 - 2015 Tax Receipts have been sent!! The IRS deadline for these receipts is January 31st and we're on time to meet that requirement! THANKS to all our donors!! Please read our 2015 end of year news here or by clicking the link to our archived news! Thanks to all of our supporters for another successful year of helping Dobermans - You are the heart and soul of mission!! Happy, healthy 2016 to ALL!!
January 1, 2016 Secret Santa matched over $10,000 of your generous donations In Memory of Francine Case during 15-31 December 2015!! These matches now concludes the very generous bequest left by this Doberman Angel - THANK YOU Francine Case and THANK YOU to all of you kind donors who participated in this fund drive which helped Dobermans supported with General Funds, Seniors supported with Senior Medical Funds and provided Sponsorships for Seniors in Rescue who are listed by the Senior Doberman Project!! All the Dobermans you helped say HIP HIP HOORAY and Happy New Year to you and yours!!
October 12 , 2015 We are now featuring the opening our new SND Book Nook with six selections for you or for gift-giving - if you don't see what you want, please ask - we're bound to have it in most cases!!
* * * * * * * * * * * * * * * *
July 15, 2014 - On July 12, 2014, SND clocked in our ONE MILLIONTH DOLLAR - that's right, $1,000,000 - raised for Dobermans, every cent, since our beginning in 2001!! We extend our utmost gratitude to all of our donors without whom this milestone would not have been possible!! THANK YOU!!
* * * * * * * * * * * * * * * *
Click here to visit our ANNOUNCEMENT ARCHIVES for SND milestones!!
---
Please Support SND by using iGive/iSearch and GoodSearch/Shop to search or shop
Or, shop directly with this Amazon Smile link and they donate 0.5% to SND!!
Or, you can just choose one of our Funds and make a donation!!
Number of puppies to paw this page:
For more information about Special Needs Dobermans, please email info@doberman911.org
Some states may prohibit or restrict the solicitation of donations via the Internet or web sites. SND has no intention of violating the laws of any state and, therefore, does not intend to solicit funds in those states that prohibit or restrict such solicitations.
This site is best viewed at 800x600 resolution or higher.